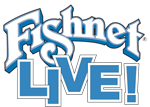 Fishnet LIVE!
July 27, 2013
2 - 8 p.m.
Front Royal, VA
Volunteer Staff
Training:
Leaders - May 4
10 a.m. - 4 p.m.
Staff Training June22
10 a.m. - 4 p.m.
Staff Training & Setup - July 20
10 a.m. - 4 p.m.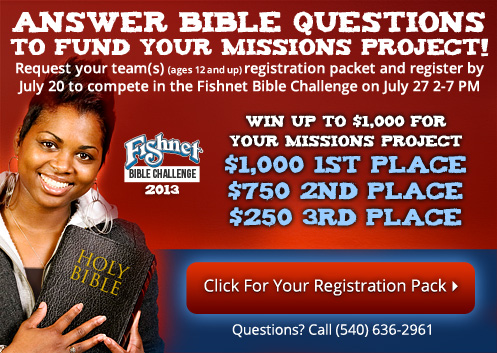 Plan to attend Fishnet Bible Challenge July 27, 2013!
'Fishnet Bible Challenge', Christian Concerts, Mission's Funding, Bible Teaching, Fun and Fellowship!
Do You Know The Bible? Compete to win $1,000 for your missions project! $750- 2nd Place $250- Third Place! Send for your registration packet today! fishnet@fishnetministries.org
How Does It Work?
1. Gather your five person team(s). 2. Send for your team's registration packet 3. Study your Bible 4. Register your team(s) by July 20! 5. Compete in the Fishnet Bible Challenge on July 27!
YOUTH GROUPS! SINGLES GROUPS! CHOIRS! CHRISTIAN SCHOOLS! CELL GROUPS! FRIEND'S GROUP! ALL FOR MISSIONS! Audience tickets available too!
"Your word is a lamp to my feet and a light to my path." Psalm 119:105
You are invited to join in the festivities of the day that will take place at the beautiful 17 acre Fishnet Life Center only 60 miles west of the Washington, D.C. Beltway! Watch this site for updates! Let us know any questions you have about the event and we will gladly respond. God bless you!
Fishnet LIVE! July 27, 2013; 2-7 p.m
391 Fishnet Blvd. Front Royal, VA 2263
fishnet@fishnetministries.org - (540) 636-2961
E-mail us or call today and request your promotional card and your group's packet if you desire to compete in the Bible Challenge! Audience tickets available too!


Fishnet Talent Search Was A Success!
Nov. 17, 2012
The Fishnet Christian musical talent search for teens and young adults ages 10-29 was an awesome event! It was co-sponsored by Fishnet Ministries, Inc. and National Media Services of Front Royal, VA. Bands, solos, and groups of various sizes registered and gave attendees awesome showcases!
Thank you to each Teen, Young Adult, adult, artist, workshop speaker and panelist who attended this exciting Talent Search!

Over $3,000 in prizes was given to the top three distinguished artists who will appear at Fishnet LIVE! July 27, 2013!

The top distinguished artists were 316 Elm- female trio, Chasing Paramount Band and soloist - Micala Curry took the recording packages home!

A total over $3,000 was awarded. Congratulations!
A Wonderful Gift DVD!
Order your copy of the 'Classic Fishnet Festival Worship and Praise' DVD today! It contains 90 minutes of video and photos taken during worship and praise sessions at Fishnet festivals. Sing along with 22 Scripture Songs sung live at Fishnet Festivals in the 1980's and 1990's.
Order your copy today and relive some of those powerful sessions!
Fishnet Staff - Thanks! We invite you to help as volunteer on July 27!!
You are a blessing! Thank you for your help in the past and in upcoming Fishnet events.
Staff training and preparation times for Fishnet LIVE!, July 27 are listed in the uupper left. If you are interested in volunteering your time, please e-mail fishnet@fishnetministries.org or call 540-636-2961 for more information. You are needed!

Thank you for each one who attends Fishnet events and for those who support the events through your financial contributions and prayers. May the grace and peace of our Lord fill your life!
We especially thank National Media Services, Inc for co-sponsoring with Fishnet Ministries, Inc. the Talent Search and the volunteer staff. I express personal appreciation to each volunteer who served at the November 17- Fishnet Talent Search 2012. Thank you! If you want to be added to the Fishnet Volunteer Staff contact list, send us your e-mail address and name and we will be happy to send you staff updates.
Let us know if you have comments or questions - CALL TODAY! 540-636-2961.

Other people speak: A lady e-mailed us recently: "Good Morning Larry, I do appreciate your prayers. It is a curious thing how I draw much encouragement just from the wonderful memories I have of Fishnet."
Watch for updates here on the upcoming Fishnet events. More good things are in the planning stages.


"Fishnet is one of the few ministries I know who have found a balance between music and the Word, discipleship, and evangelism."
- Josh McDowell
We invite you to send for more information about Fishnet LIVE! planned for July 27, which will be held here at the 17 acre Fishnet Life Center near Front Royal, VA. Some exciting things, including an opportunity for your group to raise some serious mission funds for your favorite missions organization while at Fishnet LIVE! Watch this site for more details.
Volunteer for the event
Become a prayer partner
Become a financial partner
Send your prayer request
Send your Fishnet story
Jesus said, "Let your light shine before men, that they may see your good deeds and praise your Father in heaven." Matthew 5:16